Fly With The FAA's New BasicMed Program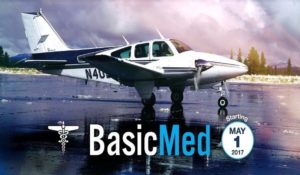 Thanks to the FAA's BasicMed program, along with free tools from AOPA, you can keep flying, and leave your medical certificate behind.
What Is BasicMed?
Once you've completed the program requirements, BasicMed allows you to fly with a valid state-issued drivers license and your pilot certificate. No more medical required.
Finding out if you qualify is pretty easy. Just fill out 4 questions in AOPA's BasicMed qualification tool, and you'll know if you qualify.
And if you don't qualify right away, the website guides you through what you need to do to qualify for the program.
What Can I Fly?
So what can you fly under BasicMed?
According to the rules, you can fly aircraft that have "a maximum certificated takeoff weight of not more than 6,000 pounds and are not authorized to carry more than 6 occupants which are operated while carrying up to five passengers in addition to the pilot in command, at altitudes up to 18,000 feet MSL and at an indicated airspeed of up to 250 knots."
And as long as you're rated, you can fly VFR or IFR. However, pilots flying under BasicMed cannot operate for compensation or hire, and must operate within the United States, unless authorized by the country where the flight will be conducted.
What Are The Rules To Stay In BasicMed?
To stay in the program you'll need to visit a state licensed physician at least every 48 months. During the visit, your doctor will perform an examination and affirm the absence of any medical condition that could interfere with the safe operation of an aircraft.
In addition to that, you'll need to take the free online medical education course every 24 calendar months.
How Do I Start?
Ready to get started? There are 5 steps to qualify for BasicMed:
Complete the pilot information and medical history portion of the FAA Medical Examination Checklist prior to your examination;
Schedule and attend an examination with a state-licensed physician who will complete the FAA Medical Examination Checklist;
Successfully complete the AOPA Medical Self-Assessment Course;
Print the certificate of completion following the online course and keep it in your logbook or in an accurate and legible electronic format, along with the completed Medical Examination Checklist;
Make sure you meet the flight review requirements of FAR 61.56 and any other applicable flight or instrument proficiency requirements to act as pilot in command.
Start Flying Under BasicMed
Contact Us
We'd love to hear from you. Please use one of the various methods below and we'll look forward to connecting with you soon!
Phone Number:
615-452-1575
Email Address:
[email protected]
Our Location:
529 Hartsville Pike
Gallatin, TN 37066
Right next to Sumner Regional Medical Center across from Perkins Drugstore.