The BasicMed rule is now effective! Print off a BasicMed Comprehensive Medical Examination Checklist (CMEC) (PDF) and get your physical exam with a state-licensed physician. Then complete a BasicMed online medical course   Then go fly!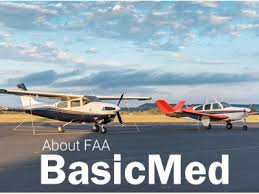 The Basics of BasicMed:
Pilot Requirements
Must possess a valid U.S. Driver's License
Must have or have had at least a third class medical issued at some point after July 14th, 2006 (You only need to have held a medical certificate at any point after July 14, 2006. It does not need to be current.)
Must get a physical exam with a state-licensed physician, using the Comprehensive Medical Examination Checklist, every four years.
Must complete a BasicMed medical education course every two years. Click here to access the course offered by AOPA.
Aircraft Limitations
The aircraft must not be certified for more than five passengers
Aircraft must have a max takeoff weight of less than 6,000 pounds.
Operational Limitations
May operate in the United States only
May operate VFR or IFR below 18,000 feet MSL
Must operate less than 250 knots
Non-commercial operations only
Dr. Michael J. Tigges
Certified DOT Medical Examiner
Certified Occupational Hearing Conservationist
BasicMed Medical Exam
Certification:
Dr. Tigges is one of the first in TN to become a certified DOT Medical Examiner of the United States Federal Government. The National Registry of Certified Medical Examiners requires all medical examiners performing physical examinations for interstate commercial motor vehicle drivers to be trained and certified in FMCSA physical qualification standards.